Great reply!
Now that this is an OffTopic Lounge, I'll happily answer OffTopicly for this specific situation. (I might split the thread, if excellent tangents of discussion merits)
Data is important -- and we want more parties to do more tests.
Being Blur Busters is 50% media site and 50% display laboratory -- oftentimes, users ask us to "review a display" -- but Blur Busters don't directly mass-test monitors ourselves except for Special Editions like GSYNC 101. The important thing is
users of our Blur Busters inventions
-- enabling many to do tests. We don't want to compete against the users of Blur Busters inventions -- whether be TestUFO or pursuit camera or other method. I do appreciate it when users do properly use our tests though, rather than to spin an argument (e.g. incorrectly executed test procedures).
Blur Busters often plays the role of
education
and the
tools
for testing display temporals, as well as advice. The old proverb applies ("You give a poor man a fish and you feed him for a day. You teach him to fish and you give him an occupation that will feed him for a lifetime.") applies here --
In the ideal situation, the student, thus, is the best teacher for oneself -- thanks to things like TestUFO. It can't easily be done for everything (e.g. It's hard to demo benefits of 1000Hz in a TestUFO test onto a user's 60Hz display), but it certainly has played a big role in moving the art of display temporals forward, such as answering "Humans can't see 30fps vs 60fps" in a link.
Sometimes the best teacher
is the student
!

(I mean this in the context of teaching oneself, not teaching others)
That's why I created TestUFO as a microphone dropping factory --
a "see-for-yourself" linkable motion animation
. A self-answering demo in a single click! Blur Busters doubles as a school of display temporals.
Someone dares ask a question that can be answered by a see-for-yourself motion test, I create or modify a custom test. They can answer the question themselves by clicking the link, laying many debates to rest by seeing it for themselves.
Once, someone in some forum somewhere, asked me if black frame insertion needs to be black. I simply answered with
TestUFO Blue Frame Insertion
. (The existing BFI test with a custom background) -- the frame just have to be blank, not necessarily black-colored, although black is superior because it doesn't distort colors.
Another person in a forum claimed that CRT 30fps at 60Hz cannot be emulated using black frame insertion on a sample-and-hold LCD. I corrected this person with a see-for-yourself link:
TestUFO Emulation of Strobed Double Images Via Software BFI on Sample-And-Hold
. Best seen on a 120Hz+ LCD, since it requires 4 sample-and-hold refresh cycles to correctly emulate, so it'll flicker badly at 15fps on a 60Hz LCD. An even-more-accurate emulation for a 240Hz non-strobed LCD can be viewed here:
TestUFO Variable-Persistence Double-Images on 240Hz Sample-and-Hold
(will flicker badly on 60Hz LCDs).
There are actually millions of different TestUFO tests when considering all the configurable parameters, including undocumented parameters. I've been micdropping "Humans Can't See 30fps vs 60fps"
since 1993.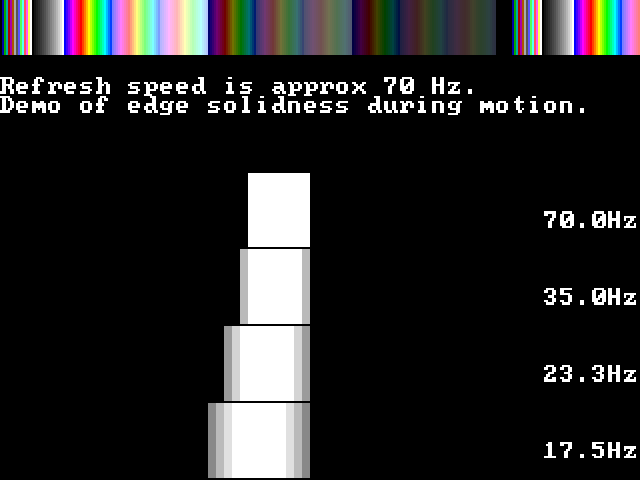 (MOTION.EXE / MOTION.BAS QuickBasic 4.5 for MS-DOS: MOTION.ZIP download -- Originally written by me in 1993 as a BBS download, last modified 1997)
That's TestUFO's granddaddy from almost 30 years ago.
Today, millions of people now visit TestUFO with eight figures of pageviews annually. The legacy of TestUFO continues in raising the general aggregate Internt IQ about display temporal behaviours -- even to descendant display-temporals arguments such as known benefits of display technology of the future (1000Hz displays, frame rate amplification, etc.).
You rarely see those "Humans can't see 30fps vs 60fps" arguments anymore. Even in the dying days of that myth of a statement -- such commentators were quickly silenced by a brief reply of a TestUFO link by more knowledgeable users. Whether on Reddit or YouTube comments or other places.
Very good sayings!
Anyway, rest of your post is spot-on! You always write very reasoned replies and I appreciate it.