BattleAxeVR wrote:I'd much rather own an OLED since I watch in the dark mostly, but if I were buying a daytime TV for the wife n kids, I'd save some cash and get a dirt cheap FALD LCD with Dolby Vision for a fraction of the price and a measurably bigger colour volume which makes HDR pop like crazy.

That said, the newer OLEDs are getting better white levels too. OTOH LCDs get bigger and bigger and cheaper and cheaper every year. We'll see which tech wins out, I hope it's OLED but regardless it's the consumer who wins when there's competition.
That's a deceivingly tricky subject, because while almost any LED will beat an OLED in peak HDR brightness in a full white field test, on the majority of the cheaper FALD or edge-lit local-dimming TVs, the HDR brightness/color volume advantage over OLED can quickly be lost in real-world content.
According to RTING's reviews, only three 2017 LED TVs they've test so far have far surpass the "HDR Real Scene Peak Brightness" of the 2017 LG OLEDs, two of which aren't "dirt cheap:"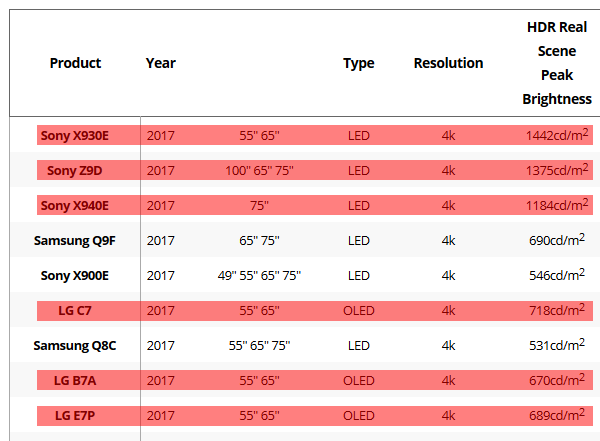 Full comparison list:
https://www.rtings.com/tv/tests/picture ... brightness
In fact, many of the cheaper LED TV models, FALD or no, actually have a lower peak HDR brightness (some much lower) in actual content when compared to this year's LG OLEDs.