Faskill

wrote:

↑

20 Aug 2020, 13:18

Thanks a lot for the in depth insight!

Would playing with Gsync Off and 240Hz in order to have ELMB be a good alternative?

But then I might as well buy a AW2521HF that has no strobing and perhaps better image quality.
You're welcome, and no, it would not, because frame rates lower than the strobe rate will have multiple-image artifacts. In other words, the bigger difference there is between fps and refresh rate, the worse strobe quality gets. You just get more multiple-image artifacts progressively as that difference increases. You'd be worsening strobe quality if you only had 150 fps at 240 Hz fixed refresh rate.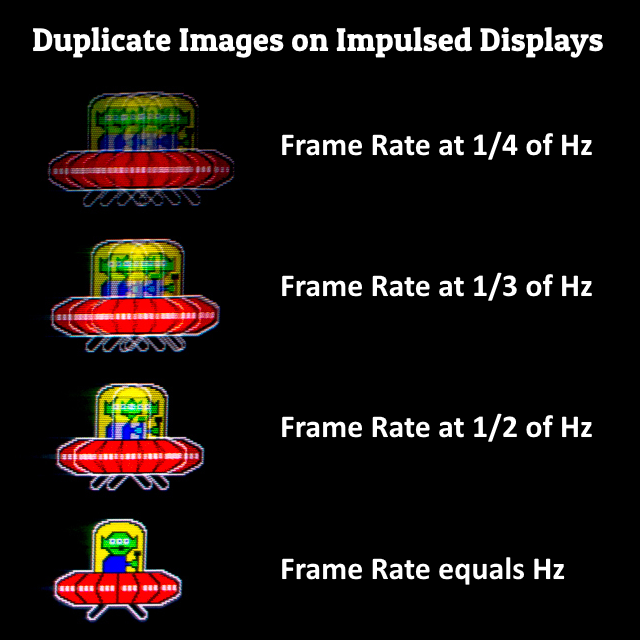 To solve this, you want to match frame rate with refresh rate, or use overkill frame rates above refresh rate. So, for the best strobe quality, you'd have to set fixed 120/144 Hz refresh rate if you only reach 150 fps. This way you'd match your refresh rate with frame rate, which would result in the best strobe quality. Strobing methods like to have some headroom for their operation, so it's a good idea to use lower refresh rate for the best effect. Fixed 120 Hz strobed on 240 Hz monitor looks much clearer than fixed 120 Hz strobed on 144 Hz monitor.
As far as I know, both of these monitors are pretty good, so ultimately, it's up to you. My advice is to get both and just pick the one you like more. Return policies today are very helpful.
More about motion blur reduction:
https://blurbusters.com/faq/motion-blur-reduction/