Test-out the different color profiles -- if you're scrolling a white-background website, you can reduce this by using original color gamut (white being maximum-brightness white) and/or slightly reduced contrast (overdrive headroom below black + above white).
allocater

wrote:

↑

20 Sep 2020, 05:50

Here my full results:

240hz: 240fps UFO -> 1 UFO ghost (scrolling text has horizontal blur (no idea how this is even possible))

240hz: 120fps UFO -> 2 UFO ghosts

240hz: 60fps UFO -> 4 UFO ghosts

120hz: 120fps UFO -> perfect (scrolling text has 1 white ghost)

120hz: 60fps UFO -> 1 UFO ghosts

120hz: 30fps UFO -> 2 UFO ghosts
That's normal.
CRTs and plasmas had this behavior too, the familiar "30fps-at-60Hz" duplicate behavior applies to all refresh rates on impulsed displays.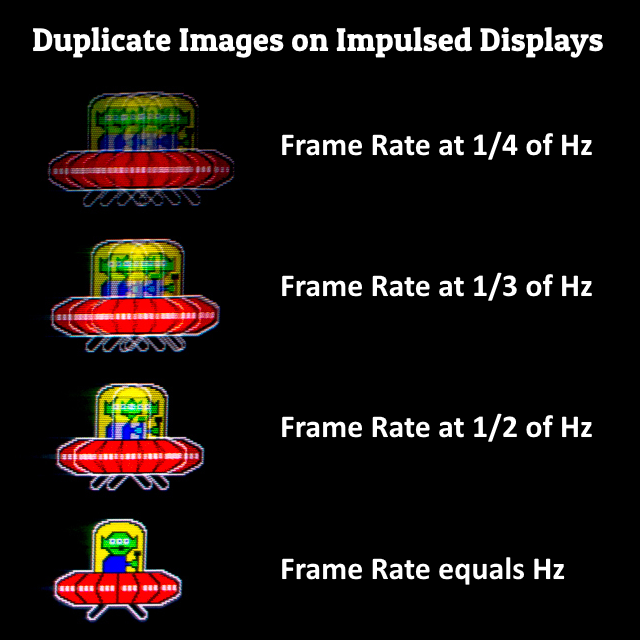 For PureXP+ motion-quality priority, you want to adjust your refresh rate to match the framerate you want. 75Hz strobing for 75fps, 120Hz strobing for 120fps, etc.
If you tolerate the duplicate images (from framerate difficulty reaching Hz) combined with strobe crosstalk (increased at higher Hz), 224Hz and 240hz PureXP are the low-lag strobing options. Alternatively, a good latency compromise is 120Hz PureXP combined with RTSS Scanline Sync.
Current popular favourite modes on this monitor has generally been:
- 75 Hz and 100 Hz PureXP+ for low framerate games to do framerate=Hz (replicate CRT experience)
- 119Hz / 120 Hz PureXP+ for general purpose CRT-like motion blur reduction (replicate CRT experience)
- 224 Hz PureXP+ for lower lag strobing at slight increase of crosstalk
- 224 Hz non-PureXP+
- 240 Hz non-PureXP