cheesebanana

wrote:

↑

23 Jun 2020, 09:38

Basically i'm looking to upgrade from a 144hz to a 240hz, and this monitor seems very well received and has the ol mark of approval from the experts themselves, but it feels counter intuitive to pay to upgrade to 240hz...and then run it at effectively 120hz to get the best results, if that makes sense.
Yes.
- No 240Hz panels can strobe perfectly clear top-to-bottom for the entire screen for 240Hz.
- This is why some vendors lock their strobe range to not run at high strobe Hz at 240Hz (e.g. ULMB 144Hz max)
- However, with XG270 you have a choice. You can strobe at any Hz (in 0.001Hz increments) from 75Hz through 240Hz.
- You can choose how much strobe crosstalk you are willing to tolerate.
Here's a motion blur chart:
PureXP = OFF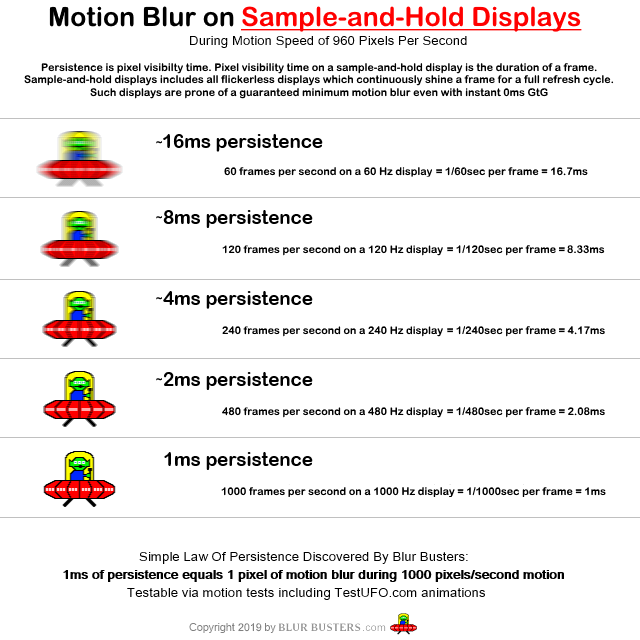 PureXP = ON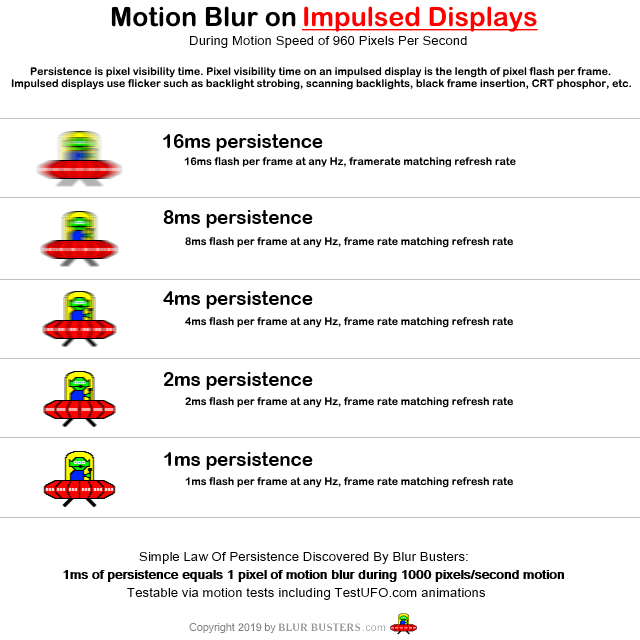 The four PureXP+ levels is calibrated to between 10% to 40% refresh cycle (in 10% increments) so your MPRT(100%) will vary from as little as <0.5ms MPRT (screen middle, 240Hz PureXP Ultra, but lots of crosstalk) to >5ms MPRT (screen middle, 75Hz PureXP+ Light).
In other words, for 1ms MPRT(100%) without using a motion blur reduction mode (strobe backlight mode), you need 1000fps on a 1000Hz display to match in a non-strobed manner.
For more information about GtG and MPRT, see
Pixel Response FAQ: GtG Versus MPRT
.