Monitors Native Asynchronous Frequency's Plague
Posted: 01 Feb 2020, 07:07
Like all know, RefreshRates are calculated in Refresh/Second, but most native RefreshRates can't be calculated during one second at
exact
time steps

there are a plague of
infinite decimals
and obviously sound like is not a good idea use Asynchronous Frequency's if want UFO
perfect
smooth movements
* = infinite decimals = 16.666666666666666666666666666666666666666..............

60Hz = 1/60s = 16.6* ms
75Hz = 13.3*
85Hz = 11.7647058823529411*
120Hz = 8.3*
144Hz = 6.94*
165Hz = 6.06*
240Hz = 4.16*
When synchronize GPU FPS with Monitor Hz (Vsync, Adaptive Sync, GSync), and can maintain the FPS steady "rock solid" at Hz number for best smooth movement, with the above list, unfortunately the GPU can't render FPS at
exact
frametimes.
240Hz = 4.16* ms Refresh + 4.16* ms frametime
Hardware can't calculate a number with infinite decimals, infinite is a mathematical representation, hardware never can do it, is aproximately. Moreover, i think is a waste of resources compared to easy and fast exact frequency process, less time process =
less InputLag
, less energy consuption, less heat.
Examples of exact frequencies:
100Hz = 1/100s = 10 ms
200Hz = 20 ms
But only a few monitors use these two natively. People need to make Custom Resolution in order to use them.
Monitor can process exact 10ms refresh, and GPU exact 10ms frametimes =
Perfect Sync
Next information is not in
BlurBusters Mouse Guide
, but can be usefull.
To add Sync in games using mouse, take in account that best current Mouse USB Polling Rate is 1000 Hz for low InputLag,
so make sure this 1000 polling rate is exact entire multiple of your current monitor frequency's
, or you can't perfect Sync Mouse + GPU + Monitor

and allways there are a bit of micro-stuttering.
These micro-stuttering can be see in BlurBusters Mouse Guide, 120Hz monitor is Asynchronous with all mouse polling rates tested (125-500-1000), 1000 Hz is the best, but there are still a bit of micro-stuttering.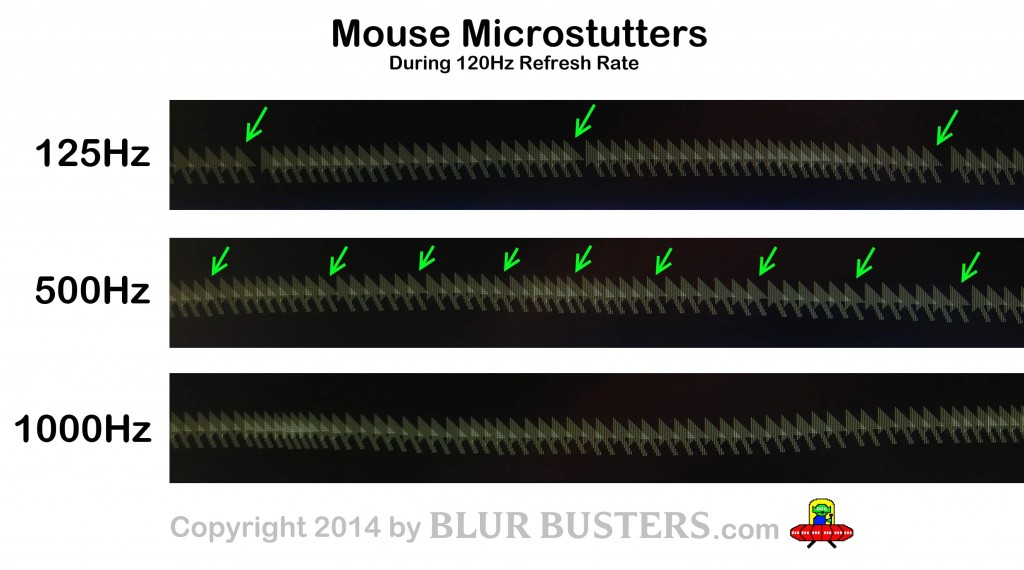 (1000 / 120 = 8.3*) (500 / 120 = 4.16*) (125 / 120 = 1,0416*) Is aSync, no entire numbers = impossible avoid micro-stuttering.
But if you make a Custom Resolution with 125Hz, problem solved

(1000 / 125 = 8) (500 / 125 = 4) (125 / 125 = 1) Is Sync, in all three test no micro-stuttering

Divide 1000 ms by entire numbers up to 20, stick with those that result in entire numbers, and you get the
Micro-Stuttering Free Frequency's List
to use with steady 1000Hz Mouse Polling Rate
/1 = 1000 Hz
/2 = 500
/4 = 250
/5 = 200
/8 = 125
/10 = 100
/16 = 62.5 (not entire, but is limited decimal, can be exactly processed by hardware)
/20 = 50