First of all, that is the wrong paper.
That's the motion threshold paper, not the sample-and-hold paper
There are different effects cased by a finite refresh rate & frame rate
Motion threshold -- 7 to 13 (Hz=fps)
Flicker threshold -- about 70 (Hz=fps)
Motion blur threshold -- approximately 1000 (Hz=fps)
Stroboscopic threshold -- approximately ~20,000 (Hz=fps)
You might be getting dizzy from looking at too many TestUFOs for too long.
Take breaks.
That way, you will be less tired.
I'd rather continue because if I haven't helped you understand displays better, then Blur Busters has to create new articles that caters to your specific type of thinking, to help explain things better. I'm a born-deaf researcher so I am not a YouTuber (at this time) due to my hearing impairment. So I often write articles, but some people don't always understand my articles.
Take a deep breath and re-read my earlier posts with the new understanding you gained. You might get on track better that way.
Correct.
It is already explained halfway down at
www.blurbusters.com/1000hz-journey
-- it is a bit of a long read, but an important read for those who want to understand display science.
mynm

wrote:

↑

17 Nov 2021, 17:24

And the last thing I want to know is if at all the videos I did, the mixed frames are caused by the MPRT as well. That is something I was thinking possible and asking you, but you didn't have answered it clearly. I didn't know MPRT was as high, to do that, I see you have explained it at one post but I was not undesrstandig that it was causing the mixed images even at the 60 fps line.
What are you referring to when you say "mixed images"? Be specific.
When you say "mixed images", do you mean the double image effect from software based black frame insertion?
mynm

wrote:

↑

17 Nov 2021, 17:24

Editd:

Sorry, I don't have understand if is a persistence how is it going to have a effect to all the nex frame, if is at a different possition.It will have am effect in some its area not all of it. I don't know what I am saying.

I am tired

. I don't undestand what you are saying.
If you're referring to software based black frame insertion, remember that software based black frame insertion is
simulating a CRT by using multiple frames to simulate a CRT refresh cycle
. So you have to think about it from the perspective of the pixel, and the pixel visibility time.
Because
SOFTWARE
-based black frame insertion can't flicker a frame at less than one refresh cycle (like a CRT can, or a strobe backlight can), it needs to add extra frames in extra refresh cycles to add the flicker to simulate a CRT.
So it has to emulate a CRT refresh cycle by using multiple LCD refresh cycles.
That's why a 60Hz LCD using software-based black frame insertion can only emulate a 30Hz (or less) CRT.
Maybe this is what is confusing you about frame mixing?
You might want to re-read my earlier posts with this understanding.
Sometimes refresh cycles and frames diverges, and sometimes you have to "pretend" a refresh cycle is multiple refresh cycles. A frame being repeated is a essentiallydo-nothing operation (screen doesn't change) on a sample-and-hold operation. It's also why 60fps has identical motion blur at LCD 60Hz, LCD 120Hz and LCD 240Hz. So motion blur is linked to frametime. You don't have a duplicate image effect on sample and hold (without black frame insertion), so a given frame rate at any higher Hz, is effectively the same (visually) as the lower Hz.
Only hardware-based flickering (e.g. CRT or strobe backlight) can flash a refresh cycle briefer than the time interval between refresh cycles.
Sample-and-hold displays are stuck with an MPRT that can never be less than the interval between refresh cycles
mynm

wrote:

↑

17 Nov 2021, 17:24

"For example, if you take the motion detection of small object, what is the optimal temporal frequency of an object that you can detect?"
And studies have found that the answer is between 7 and 13 Hz. After that, our sensitivity to movement drops significantly. "When you want to do visual search, or multiple visual tracking or just interpret motion direction, your brain will take only 13 images out of a second of continuous flow, so you will average the other images that are in between into one image."

This seem the study

. I have not read it .
This is correct. However, it only "drops significantly". It does not "drop to zero". Also, don't use this research paper to try to explain things in this thread,
because that research paper covers a different threshold than the thresholds we are discussing in this thread
Also, this is a different threshold than the flicker/stutter detection threshold.
it drops fully to zero at roughly the flicker fusion effect.
Remember there's MANY different frequency thresholds of detection.
The Multiple Human Thresholds Pertaining To Display Motion
Motion threshold -- 7 to 13Hz
As a lot of research shows. Basically this is when things stop looking like a slideshow and finally looks like motion
Flicker threshold -- approximately 70Hz
this pertains to the stutter detection threshold, where stutter vibrates too fast, and becomes blur. Faster GtG will lower the flicker threshold. However, your sensitivity to stutter (on sample-and-hold) is actually linked to your sensitivity to flicker.
Motion blur threshold -- approximately 1000Hz (can be higher or lower depending on display resolution, size, FOV, etc)
this will vary, e.g. Vicious Cycle Effect)
Stroboscopic threshold - approximately 20,000Hz (similar variables)
this was already studied, and is very common on displays too
Example: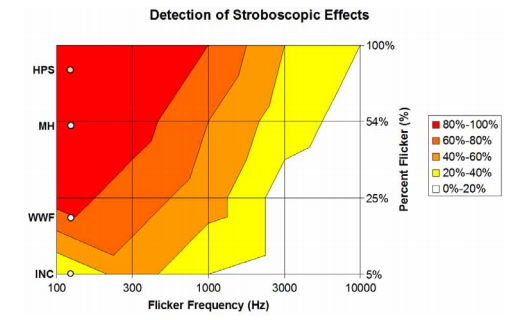 From
this lighting-industry research paper
but it also applies to displays too: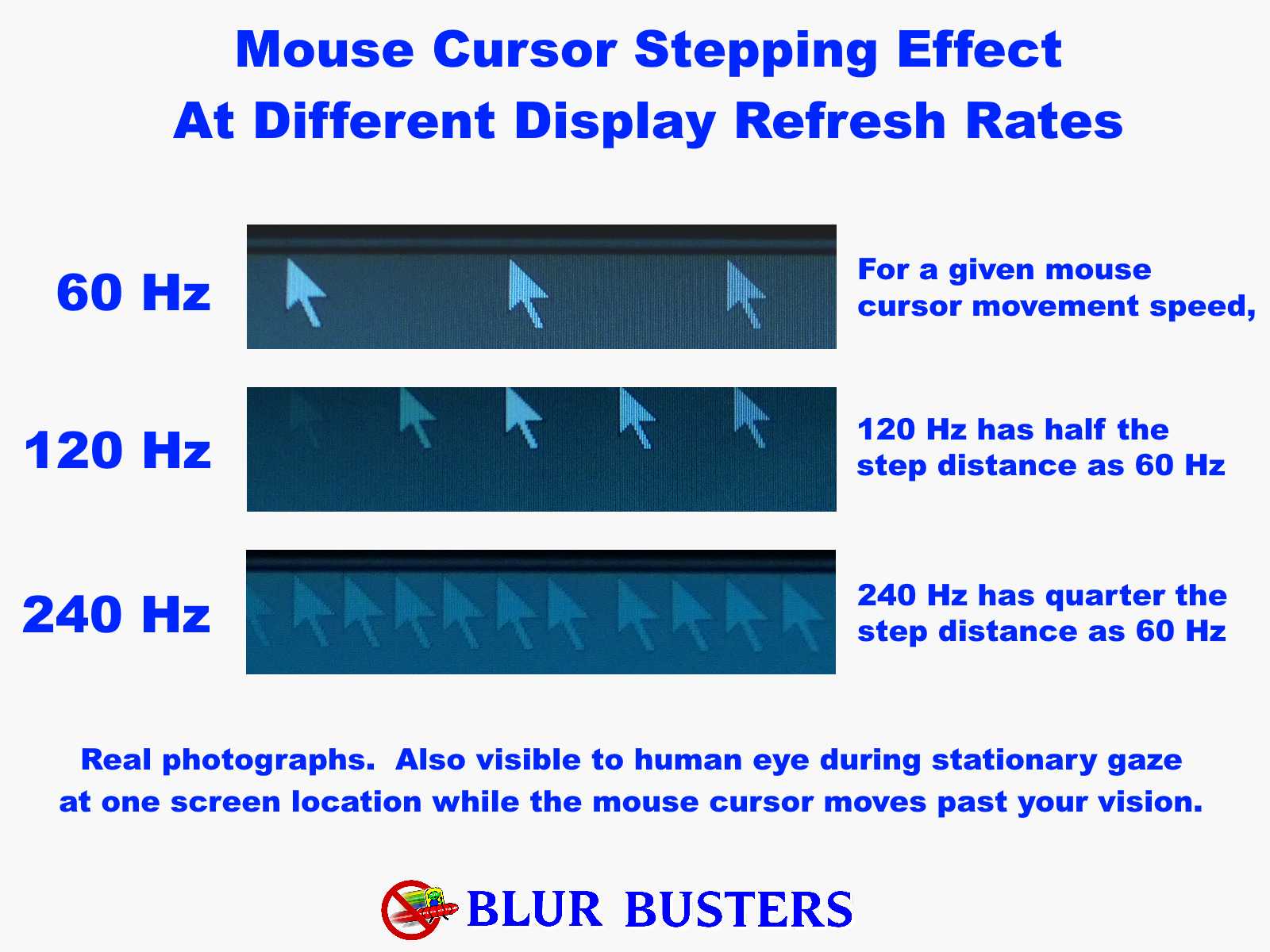 From
The Stroboscopic Effect Of Finite Frame Rate Displays
Display motion does not match real life
as long as at least one weak link exists
.
Fixing the motion threshold (like 30fps) does not fix the stroboscopic-effect threshold yet.
Try to avoid confusing the multiple different thresholds
Also: A display cannot match real life if at least one weak link exists (motion threshold, flicker threshold, motion blur threshold, stroboscopic threshold, etc). That's why we need retina refresh rates at the >1000Hz leagues, as explained at
Blur Busters Law: The Amazing Journey To Future 1000Hz Displays
.