Chief Blur Buster wrote:

240 Hz Frameskipping Status as of March 2018

There were frameskipping issues with certain models of 240Hz monitors where it only displays approximately 234 unique refresh cycles per second (skipping 6 refreshes a second -- skipping 1 in 40 refresh cycles). The only way to easily analyze this with an ordinary smartphone camera is to use TestUFO's Frame Skipping Test at

http://www.testufo.com/frameskipping Safe 240Hz frameskipping whitelist AF251FZ

-- frameskipping

solved

user-side

XG2530

-- frameskipping

solved

user-side (but, they were fast to ship a firmware fix too!)

XF270HA

-- older models were frameskipping (before factory date Oct 2017) --

older info XG258Q

-- untested

All GSYNC 240Hz

-- no frameskipping issue

Blur Busters is now offering a $50 USD Amazon gift certificate to the first person who posts a screenshot of Custom Resolution Utility settings (sync/front porch/back porch/etc) that confirms to fix at least two other people's XF270HA frameskipping.
So i've bought ag251fz about 2 months ago and from the beginning i've been struggling with frameskipping @ 240hz with this display.
In some of the reviews on youtube i found a comment from a guy that said adding custom resolution for 239Hz helped him with frame skipping so i did it and yes it also helped me, i've got no frame skipping at 239Hz.
But recently i found a comment from blurbusters in this review on youtube:
https://www.youtube.com/watch?v=htpRl4FraTw
he posted a screen with a possible fix for a 240hz frameskipping, screen was from this thread:
http://forums.blurbusters.com/viewtopic ... g&start=10
so i did a custom resolution using CRU and set everything like on the screen but without a success, still got frameskipping at 240hz. Later idk why i decided to change Back Porch from 62 to 61 lines (idk what that even is i just did it),
and suddenly i can confirm i've got no frame skipping at 240Hz.
Here is screenshot from my CRU settings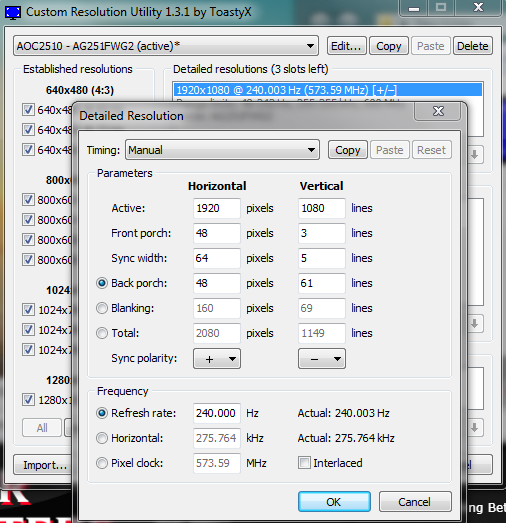 The main goal i am making this thread is to help people that also have frame skipping at 240hz with AG251FZ. I have no idea if this will help you fix it but it did worked for me

.
@Edit February 2018 #FIX 2
So i've been bored and tried some things. From what i've tested from past couple monts that 240hz fix doesnt work well with other resolutions (as a csgo player i like to switch to 4:3 1024x768 sometimes but i mainly play 1280x800 because its my preference) and from what i've discovered even with my fix method its still frameskipping at these resolutions.
The reason for this edit is that i might have found another fix for these problems and i thought this may also help people that still have frameskipping at 240hz after my #1 "fix" method.
Thing that i did was simply create new resolution in CRU (WITH DEFAULT SETTINGS MEANS THAT I HAVENT CHANGED ANYTHING AFTER CREATING NEW RES) and tried to go for 239.
X
Hz instead of going for 240Hz.
So i've found that "
X
" at 239Hz its
different
for each resolution. For example at 1920 frameskipping is eliminated at 239.900 but its appearing at 239.950+ Hz. For 1024x768 the magic number was everything below or 239.700 and for 1280x800 it was 239.600 or below. I havent been testing each number individually because im too lazy but the point is that in NVIDIA or at Display Information at my screen its still 240Hz but
without
frameskipping.
CRU Screens:
NVIDIA:
The reason why i have 239.6 @ 1920 and 1024 instead of 239.9 & 239.7 is because 239.6 was good for 1280 so i've decided to downgrade these two to be more "stable"(?) and its my preference to keep it that way but as i said i've got no frameskipping at 1920 (239.900) and 1024 (239.700).
My GPU is GTX 1060 3gb version and drivers are 390.77
Hope that helps someone in the future