So i've bought ag251fz about 2 months ago and from the beginning i've been struggling with frameskipping @ 240hz with this display.
In some of the reviews on youtube i found a comment from a guy that said adding custom resolution for 239Hz helped him with frame skipping so i did it and yes it also helped me, i've got no frame skipping at 239Hz.
But recently i found a comment from blurbusters in this review on youtube:
https://www.youtube.com/watch?v=htpRl4FraTw
he posted a screen with a possible fix for a 240hz frameskipping, screen was from this thread:
viewtopic.php?f=2&t=3547&hilit=frameskipping&start=10
so i did a custom resolution using CRU and set everything like on the screen but without a success, still got frameskipping at 240hz. Later idk why i decided to change Back Porch from 62 to 61 lines (idk what that even is i just did it),
and suddenly i can confirm i've got no frame skipping at 240Hz.
Here is screenshot from my CRU settings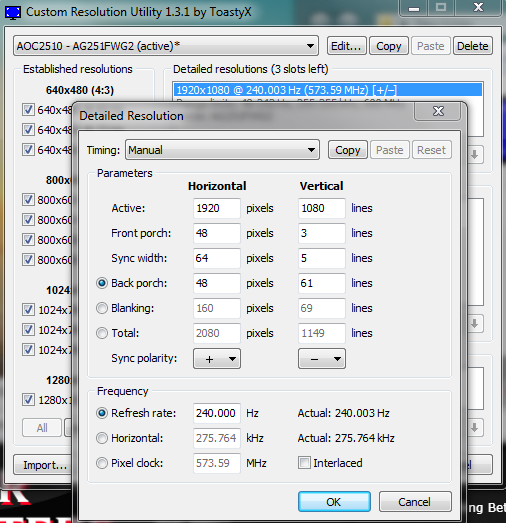 The main goal i am making this thread is to help people that also have frame skipping at 240hz with AG251FZ. I have no idea if this will help you fix it but it did worked for me

.