OSD settings:
 - everything stock (Racing Mode, Contrast 80, Adapive-Sync ON, HDR off) except Brightness 10, Color Temp. > User Mode > R98, G99, B96 (tftcentral.co.uk calibration)
 - enabling EMLB or ELMB-SYNC automatically changes Brightness to 90.
 - Overclocking ON
 - shipped with firmware MCM103
Setup:
 - ASUS DUAL-RX580-O4G
 - DP cable, not the one included, worked perfect
 - Xiaomi Redmi Note 9S camera
VIEW IN FULL RESOLUTION AND ZOOM FOR BETTER QUALITY!
Strobed vs strobed+vrr vs sample-and-hold ufos (5844x3660), brighter image here:
https://i.ibb.co/qnPYs8R/VG279-QM-Blur- ... pg-1-2.jpg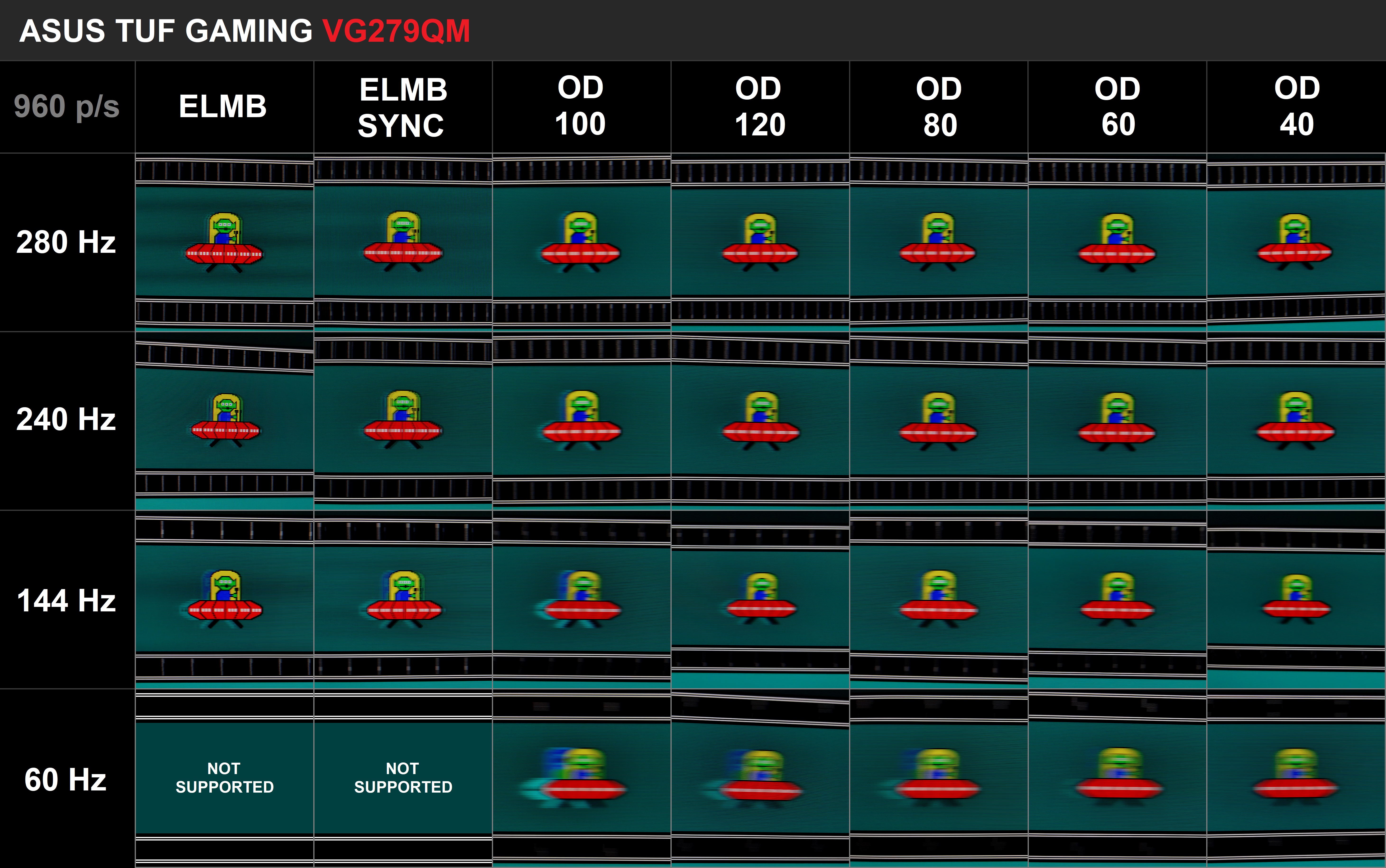 - ∼960p/s, middle screen, middle cyan, fullscreen ufo
- overshoot at OD 120 is placed in-between OD 80 and OD 100 (OD 90)
- there was no point of recording OverDrives bellow 40, but OverDrive acts different with HDMI cable - overshoot already starts to appear with OD 20 @240Hz
DP cable
: win10 at 60Hz shows
10-bit
, should do 240Hz
10-bit
, 280Hz
8-bit
HDMI cable
: 60Hz
12-bit
Strobe Crosstalk @120Hz and @280Hz with ELMB (not ELMB-SYNC) No Frameskipping @280Hz if anyone is into that